Kia ora OVS whanau and caregivers,
Well, the weather continues to be kind to us so let's hope it continues as we have an exciting end to our term planned. This weeks update is quite full so we encourage you take the time to read it carefully.
OVS PTA – The PTA would like to extend a warm invitation to any whanau who are interested in joining our PTA to come to our AGM next Monday 27th at 3.20 pm. All you need to bring is your ideas and passion to help make our  school the best it can be. Where? At school. in Room 5.  See you there!
The last of our camps also take place next week and then we are into an 'egg-citing' last week of term with our fantastic OVS Book Week!
Book Week, the first week in April, will be filled with fun and engaging activities – check out a taste of the programme below.
Monday  3rd
Think and Be Me Funday Monday! A presentation to, and fun games for all our students.
Tuesday 4th 
Book character dress up day and parade, (gold coin donation to go towards a school affected by the cyclone.)
Poetry workshops held in the library.
Special guest readers.
Wednesday 5th
Plays and puppets in the library
Thursday 6th
Easter Egg Hunt and Booknic-Just like a picnic, only bookier! (afternoon book and picnic combined under the trees weather permitting) and opportunity for students to share their poems.
So, now is the time to start organising your Book Week costumes.  Just a reminder that the character you choose must be from a book. We can't wait to see all of your wonderfully creative costumes!
Senior Camp
A massive thank you from Mrs Cowan (Whaea Frances) and Miss Lynch to all our fantastic parent helpers who spent 3 days with our wonderful Room 6&7 students at this year's Senior Camp. It was great to finally be able to  hold camps after the disruptions of covid and watch our students bond and their confidence grow.  We simply  cannot provide these experiences for our students without you, our great OVS parents. Thank you!
Middle camp reminder 
Room 4 and 5 are really excited about their camp next Thursday 30th  and Friday 31st of March! Just a reminder to make sure you have given permission and paid.  We are looking forward to another successful camp.
After School Care – Students attending Middle Camp 
Students who usually attend After School Care on Fridays and are returning from Middle Camp on Friday 31st March, on this occasion will not be able to attend After School Care on this day.  If you have any queries, please contact Robyn Drake (After School Care Supervisor) r.drake@otaika.school.nz.
Term 2
We are also excited to bring you some news for next term.
Our first ever school powhiri
Our term will start on Wednesday the 26th of April with our first ever formal school Powhiri. We will be welcoming all of our students and whanau that started with us in Term 1 and our newly arriving students, whanau and staff  for Term 2.
All whanau are welcome to attend this powhiri and we would love to see you there.
Matariki Week
OVS will also be holding our first Matariki Week from Monday 26th to the 29th of June.
This will be a week of celebrating Matariki, with the students participating in a wide range of experiences which will culminate in a manu tukutuku (kite) flying afternoon here at school. Later that evening we will be gathering for an exciting Tawhirimatea Lantern Trail followed by 'fire pit' Matariki legends, and then a senior Kapa Haka performance. This will be followed by an opportunity to share in some delicious kai and  community manaakitanga (sharing, respect, generosity and care).
Kapa Haka Festival
Stop press: Our first ever senior kapa haka group will be performing at the Morningside Kapa Haka Festival on Thursday 29th of June. We will be taking all our senior students to support our kapa Haka group, and we warmly invite any whanau to also attend.
Netball – we need you!
Netball season is nearly here and we are looking for players and coaches to represent Otaika Valley School! If your child (boy or girl)  is interested in playing netball this season, please let Jen know by Wednesday 29th of March at the latest 🙂  (The Season starts in Term 2).
There are 3 year groups: Years 1/2, Years 3/4 and Years 5/6.
All games are played at the Kensington netball courts.
– Years 1/2 play on Monday evenings (game starts at 5:20pm).
– Years 3/4 & Years 5/6 play on Saturday mornings (earliest game starts at 8:15am and the latest game starts at 10:30am).
We already have a Year 1/2 coach (yay!), however we still need a Year 3/4 and Year 5/6 coach.
If you have any questions or would like more information, please let me Jen know by phone 432 2731 or email admin@otaika.school.nz
Dates for your diary
Book Week:  Monday 3rd – Thursday 6th of April
End of Term 1: Thursday 6th of April
Start of Term 2 : Wednesday 26th of April
Reminder – Monday 24th of April is a 'teacher only day' with our staff undergoing Math professional development  in readiness for the new curriculum refresh.
Matariki Community Night: Wednesday 28th of June
Kapa Haka festival: Thursday 29th of June
School Holiday Activities
Futsal…
Tuesday 11th of April to Friday 14th of April.
Held at Excellere College in Kamo, between 8:30am-4:00pm
For more information please visit https://www.northlandfutsalacademy.co.nz/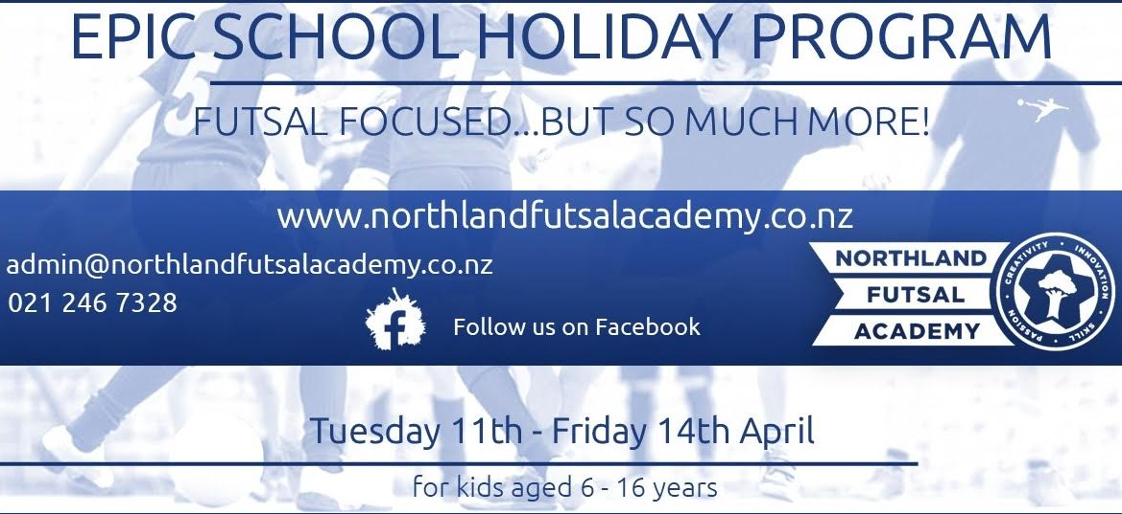 Watch a show…
The show will be performing one show on Thursday 6th April at 6:00pm in the Te Kotahitanga Exhibition Hall here at Forum North.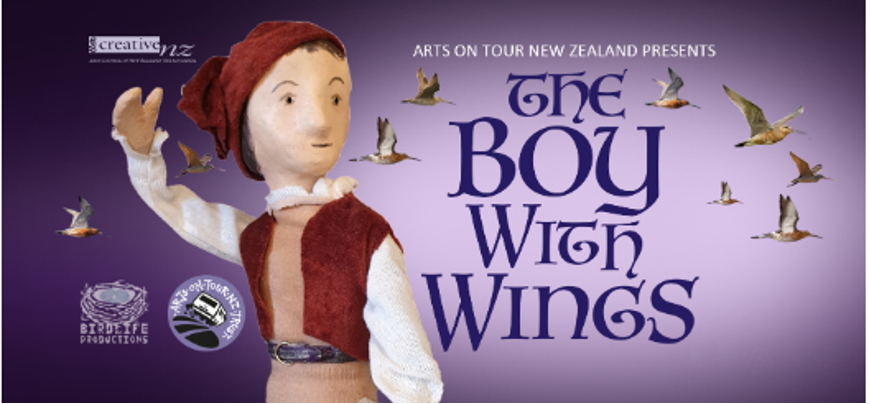 Using puppetry, songs, storytelling, and exquisite hand-crafted sets that magically unfold out of boxes, award-winning theatre company 'Birdlife Productions' promise laughter, tears and thrilling adventure when a young man's epic journey unites with the miracle of Kuaka/Bar-tailed Godwit migration. In this high-tech fast-paced digital world, 'The Boy with Wings' offers families a counter to 'screen time' that allows space in 'real-time' for children to watch, listen and reflect. Melded with a real-time ornithological lecture, this is a comic, touching, and environmental story using the ageless wonder of puppetry that dares us all to follow our dreams!
Designed specifically for children ages 5 to 9 years, but loved by all ages!
Video Trailer: https://youtu.be/RvrrNrSZ084
Day out at the Carnival…
Saturday 8th of April at the Caledonian Park in Waipu.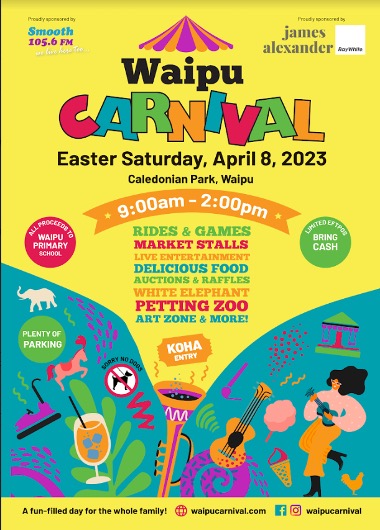 Print or Save this Post