Otaika Valley School sits within a rural setting, where the tidal river meets Otaika Valley Stream, just five minutes south of Whangarei. Whitebait breed in the river and our friendly neighbour has supported an ongoing school relationship with tree planting and fencing off the river hatchery.
Surrounding the school are lifestyle blocks with sheep, goats and donkeys, a Department of Conservation Reserve and a great sense of space. The expansive school grounds encourage imaginative play, creativity and active interaction during breaktimes. School bikes are available daily for students to ride the 360m bike track and many bring scooters to zoom around on.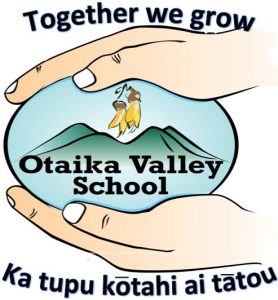 Our staff and principal work together as a team to provide a safe, friendly and supportive environment for children to thrive in. Curriculum development, school wide behaviour and learning practice and all we do here is strengthened within our team approach. The school vision of 'Together We Grow' drives how we work with staff, students and community. As a long-established Positive Behaviour for Learning school, we have consistent expectations of what behaviour and learning looks like on a daily basis, and as such pride ourselves on our positive school culture. Inquiry learning often happens within Mantle of the Expert and dramatic learning approaches to explore learning in authentic ways. Te Ao Maori is
interwoven within these learning experiences as a highly valued approach to learning.
Children learn within seven classrooms ranging from new entrant to year six and come from a range of small farms, lifestyle blocks and Whangarei City. The school roll generally starts at 140-150 students and grows to between 160 to 170.
Otaika Valley School offers a semi-rural experience and innovative curriculum practices to a range of wonderful students and families, within a rather nice setting.
Terry Brock
Principal