Portland Rural School Cross Country (previously held at Waiotira)
Kia ora
Portland School is really looking forward to hosting the 2020 Portland Rural School Cross Country event for the first time.  To successfully manage and communicate the safety aspects of this new event to all schools and parent spectators; please pass this onto your teachers and parent community.  This event is in a farm paddock, which is muddy, has animal pugging and is on a hill.  The children will get muddy and possibly wet, so please provide a plastic bag and change of clothes.  Warm clothes and a rain coat will be really important.
Date:  Thursday 13th August.  (Post Postponement 18th August)
9:30am depart Otaika Valley School by bus
Event Location (new)  
– Tikorangi Rd, which is about 1 km past the Portland School
Parking instructions
– Parking wardens will be on both entries to Tikorangi Road – please respect their instructions for the safety of the children
– A map is provided highlighting parking areas
– No cars to enter the 'no parking area' on Tikorangi (a loop road) – marked in red
– Limited parking is available on the top end of Tikorangi Rd – please note no driving through the no parking area
– Buses to enter from the bottom end of Tikorangi Road to park below the hall on the road
– Car parking shown in yellow – on Railway Road, and also the bottom end of Tikorangi Road
Spectators Viewing
Spectator viewing is marked in green. Most of the perimeter is a footpath on the outside of the fence (bring a deck chair)
No spectators on the course at any time
Please access the school gazebo areas through the top gate
The entire track is visible from most areas with the start and finish line in the middle
If possible car pool to minimise the traffic movements up Portland Road and at the event
Toilets
4 port-a-loos are available on trailers closest to the start line and school shelter areas. Please note teachers will be taking children to the toilets, which are set up on the closed off road.  No vehicle access during the event.
Junior students will need more support accessing the toilets.
Food
Sausages sizzle, soup, baking and soft drinks will be available for purchase on the day
No drinking water on site – please bring your own
We look forward to hosting this event
Kind regards
Shane
Principal Portland School
Please see parking / spectator map attached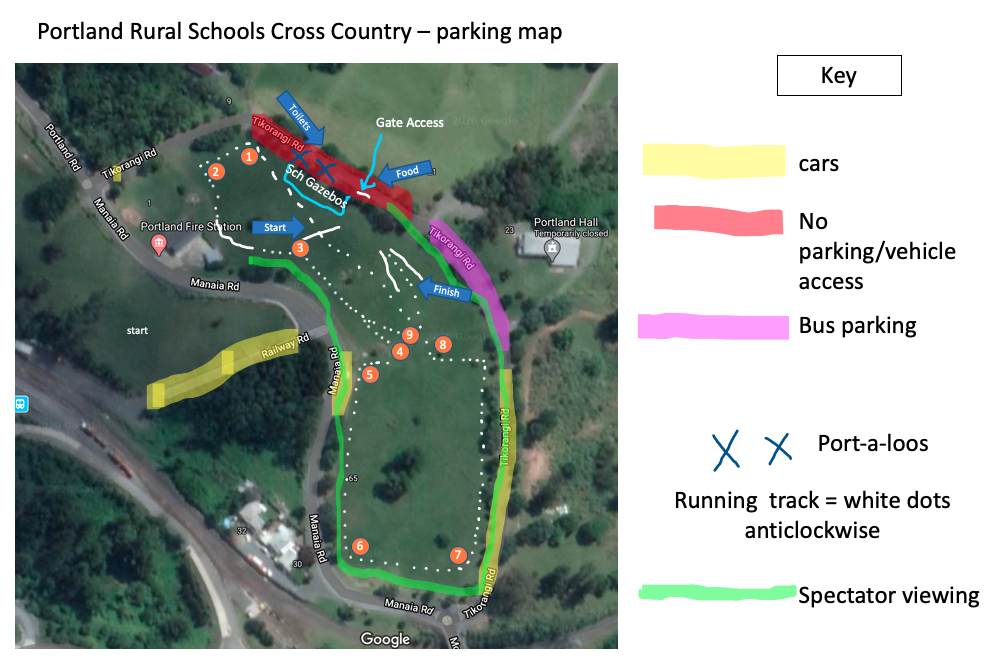 Please fill in the permission form sent out by email to help us co-ordinate buses.  We look forward to supporting a local school running this event for the first time.  This farm paddock is in the true nature of rural cross countries and will challenge the runners.  Y4 (8yr olds) up to Y6 may get chosen from this event to represent our school at the Whangarei Interschool Cross Country at Barge Park.  This event has hills in it, therefore the Portland event will be a good measure of our athletes.
Regards Terry
Reading Information Workshop
When: On Friday 7th August, 2:30 -3:00pm
Who/What: Maggie McClune Room 1 and Pauline Pitman – our Reading recovery teacher will run a short session on reading.
We will cover what we do in class and how you can help your child at home. It is aimed at children in their first year at school, but it could be useful for anyone with questions around their child's reading. If there is interest we could do a video session for families who can't make it to the meeting. Please let Maggie know if you intend on coming along.
Regards Maggie McClune
Drinking Fountains
Post Covid19 we have turned off the drinking fountains to keep children safer with shared surfaces.  We have encouraged children to bring their own drink bottles to fill in class,  and we provided bottled water for those who forget.  Many children regularly rely on the school supply of water, which is not sustainable or teaching responsibility.  Therefore, we have decided the fountains will be turned on again, with teachers discussing fountain drinking hygiene.  If you do not want your child using the drinking fountains then please take the responsibility for providing a water bottle each day.
Ag Day Animals are turning up to school
Lady arrived this week at school with Jack.  His little goat has enjoyed the company of April (Taylor's) and Sprite (Isaac's) Lambs in our temporary lamb fence.  Thank you to these families for filling in the registration form and agreement to follow school animal health procedures.  I gave Lady her first 5-IN-1 CLOSTRIDIAL VACCINE MULTINE, which provides protection against the 5 key clostridial diseases in sheep, goats and cattle.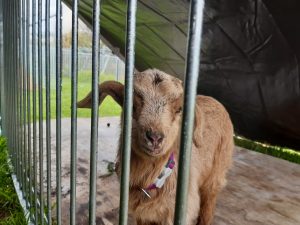 Kind regards
Terry

Print or Save this Post