Health and Safety Policy review
As guided by the Ministry of Health and Education for level 1, Otaika Valley School has been operating with more care and awareness around staff and children who are sick at school.
The following processes are how we are operating at school right now and this will be discussed at our next Board meeting to be included within the school Health and Safety Policy.
The principal, as officer, has responsibility for implementing this policy and therefore must:
Ensure all employees and other workers at the school will take reasonable care to:
Follow good hygiene practices and to act with caution for anyone who is feeling sick

If people are sick, they should stay home (phone the healthline or their GP and get tested if they have cold or flu symptoms)
Continue to regularly wash and dry hands (when coming back into class, after P.E, play, going to the toilet), sneeze and cough into elbows
Soap, water and the ability to dry hands should be provided in bathrooms and classrooms
Regularly disinfect shared surfaces – teachers/students to disinfect and wipe down tables, flat surfaces and high use door handles once every learning block.
Alert level 1 – Covid-19 – school staff are to observe students on arrival into classrooms checking for symptoms and ask those presenting as unwell to go home – teacher use card system to communicate student health messages with the school office
Anyone who is showing new onset or worsening symptoms of one or more of the following:

Cough
Fever
Sore throat
Runny nose
Shortness of breath/difficulty breathing
Temporary loss of smell
Anyone with these symptoms should ring Healthline on 0800 358 5453 or their GP.  They will advise on testing for Covid-19.
Health's information on who should get tested notes that people with any of the COVID-19 symptoms who are close contacts of confirmed cases, have recently travelled overseas, or been in contact with recent travellers, should get assessed. If they are not close contacts of confirmed cases, have not recently travelled overseas, or have not been in contact with recent travellers, then there is no need for them to self-isolate while awaiting the test result, and they can return to school or early learning once they are feeling well or on the advice of their health practitioner.
Sickness and Absence Reporting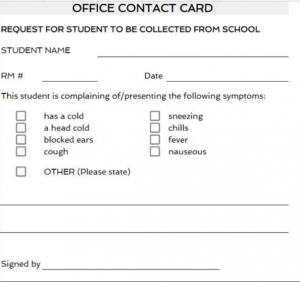 Over the last 6 weeks of school we have noticed a trend of cautious parents keeping children home when children are unwell.  The staff would like to thank everyone supporting the changes forced on us by Covid-19.  We are so grateful that parents are accepting this responsibility and making school safer for everyone.  Please, read the above guidelines and make your decisions for keeping children home away from school based on this information.
The school has provided these exact same guidelines for relieving teachers to follow, which is now kept in the classroom emergency folders.  Teachers now have an office contact card to communicate accurately any daily sickness with the school office.  This process is working well.
To report and absence please try out our new website www.otaika.school.nz, create a short cut for your phone and…
Click on the first "quick link" button called Absences, or go to Online Forms on the menu bar and select Report an Absence.
Your information then comes through via email to the office staff.  This really helps reduce the time our office staff spend ringing parents when they HAVE NOT let the school know about their child's absence.  By law the school has to make sure each child is safe each day.  Please help our office work more efficiently by reporting all absences.
New School Website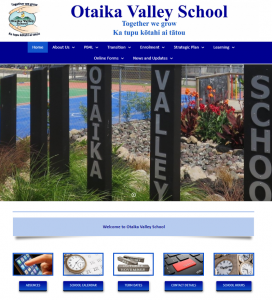 www.otaika.school.nz
Yes, we have a new school website.  This has been delayed this year for obvious reasons and I am working through a bit of training around use it and transitioning over newsletter processes and school communication.  The Ag and Flower Show was the first newsletter trial for me and you will find this posted on the site with animal registration forms and information for new families.  This newsletter is the first fortnightly newsletter, which will be posted on a Friday at 3pm at this stage.  These newsletters will also be sent automatically to your email.  All teacher class related communication will be in the usual email only format and not posted on the website.
Incredible Years Parenting program
This parenting programme is well worth considering for families.  Most of our staff have completed the 'Incredible Years Teacher' course, with many ideas, techniques included in our school-wide learning and behaviour plan.  If you're interested or want to find out more about the parenting programme, please make contact Chrissy Rewita, of the Ngati Hine Health Trust.  0800  737 573.
Te Reo & Matariki
The staff and children have been enjoying a recent classroom focus on Matariki, with Lisa Watson from the Ministry of Education working with staff in class and at staff meetings to increase our knowledge and abilities.  We have planned to have a Matariki themed fun day, as part of our RURU values reward day, on the last week of this term.  The staff have a range of activities planned.  I am looking forward to learning a bit more about harakeke weaving, under the guidance of Nicole.
Reading Workshop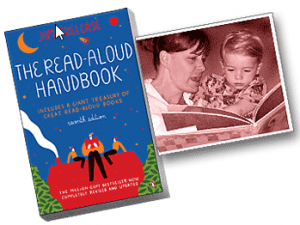 This reading workshop is for parents of new entrants who have recently started school this year and are wanting to learn more about how to help with their child's reading at home.
Thursday 30th July 2:30pm to 3:00 in the school library.  Please email or see Maggie McClune.  m.mcclune@otaika.school.nz
Kind regards,
Terry Brock

Print or Save this Post