17 August 2021
Kia ora koutou,
Contents
School enrolment process changes
Lambs at school
SCHOOL ENROLMENT PROCESS CHANGES
In June this year the Board of Trustees removed the Out of Zone enrolment scheme.  This means we do not run a ballot each year for new enrolments.
What this means…
All parents of the school must let us know if they have a child enrolling as a 5 year old
All new enrolments must fill in an official enrolment form and provide a birth certificate and immunisation record (Plunket book – if applicable)
5 YEAR OLDS…
The school needs to know well in advance of 5 year old enrolments for planning purposes

We need time to arrange Kindy visits with the new entrant teacher and principal
We need to timetable 3x Monday school visits prior to the 5 year old starting
We need time to plan classes, particularly at the end of the year
IF YOU KNOW OF NEW FAMILIES LOOKING AT ENROLLING…
Please get anyone you know who is interested in enrolling their child(ren) to contact the principal
The principal meets with new families for 30 to 40mins to give them an overview of what Otaika Valley School offers
Parents/caregivers then decide to enrol their child
The school puts them on our enrolment list
The enrolment list allows us to plan visits and classes
LAMBS AT SCHOOL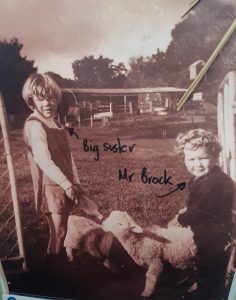 Check out an old photo of me on the family farm at Maromaku, north of Whangarei.  I grew up with lambs at home and took them to Ag Day.  My last memory was as a 10 year old and Gonzo who won champion lamb.  Gonzo was a romney with a curved nose and I really liked the Muppet Show.  He died of facial eczema when the farm was sold and we moved to a 10 acre block in Vinegar Hill, Kauri.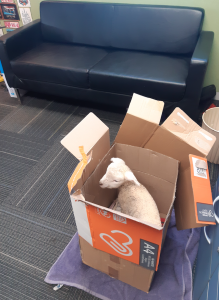 40 years later (you do the maths), yesterday and today I have had a 4 day old lamb in my office keeping me company.  What we do as children can stay with us forever.  This little one is not quite robust enough to be hanging out with the other lambs in the pen.  It is starting to learn to feed on the bottle and is gaining strength.  I hope that lambs at school can give lots of children an insight into farm life and the many valuable life and death lessons involved.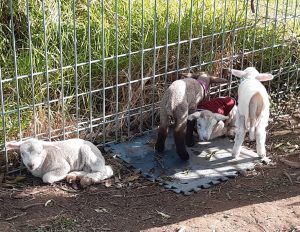 Here are a few of the 6 lambs now at school.  They are brought to school each day in vehicles and taken out the back to our pen.  We tell the children to not trample the grass, so that we have feed for them as they grow.
Please remember that all animals that come to school prior to Ag Day need to have a registration form filled in. This has information required for vaccination and drenching.  I will dock the lamb for you if required.  Three of our senior students now know all about the male anatomy of a ram lamb, rubber rings and the process involved and what to hold to assist.  All good farm learning.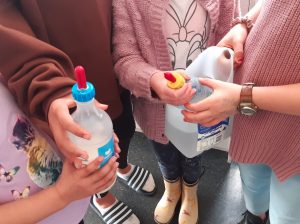 Parents mix up the lamb milk power at home.  Older students help younger ones to check the correct amount of milk is fed to each lamb.  They also help warm up the milk and test the warmth on the inside of their wrists.
Parents can help by making sure the feeding bottles have a line marked with the mls for a feed.  The guidelines for feeding quantities are on the lamb milk powder bags.  It is helpful that children have the feeding times sorted so Jen and I can help monitor smooth feeding operations.  The senior students get very good at taking over this job for us.
REARING COMPETION: 
A few days before the Ag and Flower Day I interview all of the children with a lamb or goat for rearing.  The children are asked about how much they fed their lamb when it was young, how often they fed it and how that changed over time.  It is quickly apparent which children mixed up the milk with their parents, compared to the ones who had it all done for them.  Rearing a lamb is about taking responsibility for the health of their lamb.  They are asked questions about vaccinations, drenching and what can be done to protect lambs from internal and external parasites or bugs.  We have lots of other questions about looking after lambs/sheep/goats (note:  Calf entries are judged on the day for rearing). Parents can help find out about these things and discuss it with them.  The top prizes for rearing go to students who know all of the diseases 5 in 1 vaccination prevents.  They will know what oral drench was given and what it was for.  Some points go towards the condition of the lamb.
Thank you to all of those parents who have taken on the challenge of supporting their children having an animal.
More general information is on our school website.
Regards
Terry

Print or Save this Post