Kia ora koutou,
It has been a very focused time with student learning at school.  We have really worked hard on teaching and learning within classrooms to support all learners, who have all been impacted in some way or form during our unprecedented 2020 year.   Many events have been cancelled, which has been taxing on lost teacher planning time and energy and disappointing for students.  I am a firm believer that from challenge comes opportunities to learn, change and grow.  When one door closes another opens.  Looking to the future, we will have to adapt as a school to respond to these challenges and turn them into opportunities, as will our country and the countries of the world.
Northland Schools Cross Country
It was a pleasure to watch our 17 cross country representatives compete with the best runners in all of Northland.  All students did well.  I was on the finish line all day so got to see our current and also past pupils come in.  Sadie came in 11th, Mason 15th, Jasper 18th & Will 21st.  The rest of the team did themselves proud against up to 100 runners per race.  Thank you to our parent transporters/supporters who got the team there.
Out of Zone Enrolments
Our zone is open until the 14th of October, which is the first Wednesday back after the holidays.  We have places for 8 Out of Zone new entrants and 4 Y2 students for next year.  If you know of anyone who wishes to come to Otaika Valley School next year, then please pass on the following information, so they do not miss out.  It is really important for our school to maintain our roll to maximum capacity within the seven classes to run the school effectively.  Please find the newspaper ad below…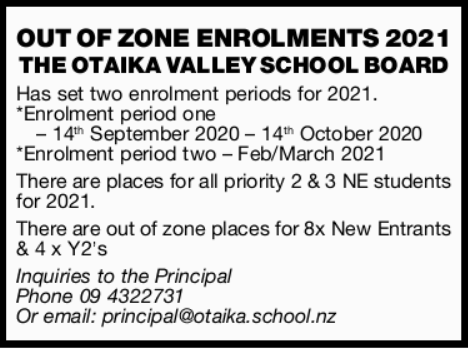 HIGH TEA for Donna and Cherry
Today we had a surprise 'High Tea' to say thank you to Donna and Cherry who came into school during Level 3 to support the teachers running the school bubbles.  Without their skilled support, we would not have been able to keep our teachers at home running home learning for their classes.  The whole staff really appreciated what they did for the children, staff and school.
School remains a place of learning, as today I found out what a 'High Tea' was.  We had high plates (see the photo) and really flash grub, I mean food.  Scones with cream and jam, cream puffy things.  The ladies wanted me to take a photo of the food to share with you and I got a ribbing for probably wanting to take a photo of my freshly baked scones.  Therefore, peer pressure has got to me and I will include photographic evidence that I can bake scones.
Many staff wanted to know how I got them so light and fluffy, as they often find their scones don't turn out like mine.  This is not a question my fishing buddies tend to ask me.  Just for the record I will be wearing my oilskin coat and beanie on Saturday and not sharing my work stories.  Ha ha.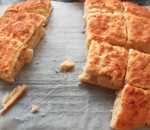 AG DAY lamb trophies – please return to the office to be engraved asap.
SCHOOL DATES for Term 4 that may involve parental support
Parental support is essential for the school to run extra events, particularly EOTC  (Education Outside the Classroom) activities.  Please put the key dates below in your diary if you are able to help us out.  Take particular notice of the R4&5 and R6&7 surfing days at Waipu Cove.  Flashback to when these classes were saddled up with all of their camping gear, food, destinations booked, teachers had completed the mammoth task of preparing documents/planning/preparation/pre-visits and parents had time off to support the ever popular and highly prized 'SCHOOL CAMP', to have it cancelled the morning of camp departure due to Covid-19.
We haven't been able to replace the school camp this year, but instead have organised surfing and beach fun days for both classes.  Water sport requires parents in the water for safety reasons, and even the odd parent surfing wipeout.  We hope parents will be able to support their child's class on these days.
Key dates….
Wednesday 14th Oct – Out of Zone applications close
Wednesday 21st Oct – Out of Zone ballot if required
Thursday 22nd Oct – Ag & Flower Day preparation day – flowers, exhibits etc.
Friday 23rd Oct – Ag and Flower Show day – under Level 1 this will be the same as in the past – under a return to Level 2 (I have planned a good day, with restrictions of parent movement mostly after 11am lamb judging).
Monday 26th Oct – Labour Day
Thursday 5th Nov – Central Ag Day – Barge Park
Friday 13th Nov – Room 6 & 7 Surfing Beach Day at Waipu
Tuesday 17th Nov – Athletics Day at Maungakaramea School/Rec Centre
Friday 20th Nov – Y6 Induction Day at Whangarei Intermediate – parent transport required
Wednesday 25th Nov – Room 4 & 5 Surfing Beach Day at Waipu
Thursday 10th Dec – Mystery Y6 activity day and sleep over – parent transport and fun required
Wednesday 16th Dec – End of Term 4

Print or Save this Post