BOARD OF TRUSTEES
The Otaika Valley School has 'selected' Korey Taylor as a casual parent representative to join the Board of Trustees until the next election.  We look forward to welcoming him onto the Board at our next meeting on the 16th September 2020.
During this process of selecting a new board member  we had a high calibre of candidates to choose from.  Due to the identified candidates having the skills we were looking for, Rhonda Kay one of our Board members has reluctantly chosen to resign from the Board. She has taken over running the family farm (due to health reasons), is maintaining her full time job commitments and that of her family, which does not allow her time to fulfil her role on the Board.  The Board wishes to acknowledge Rhonda's time and commitment to the school and wish her the best during these busy times.
This leaves the Board in the positive position of having another available 'casual parent representative' identified to fill this position.   The Board wishes to follow the required democratic process of asking the school community eligible voters the following question again.
Otaika Valley School
Board of Trustees
Casual Vacancy for an elected trustee
A casual vacancy has occurred on the board of trustees for an elected parent representative.
The Board has resolved under section 105 of the Education Act 1989 to fill the vacancy by selection.
If ten percent or more of eligible voters on the school roll ask the board, within 28 days of this notice being published, to hold a by-election to fill the vacancy, then a by-election will be held.
Any eligible voter who wishes to ask the board to hold a by-election should write to:
Chairperson
Board of Trustees
Otaika Valley School
by: 10th October 2020
OUT OF ZONE ENROLMENTS 2021
The following Ad will be in the local paper this week to advertise for our of zone places for next year.  If you are in zone and have a five year old starting in 2021, you do not need to do anything, other than make sure we have them recorded in our files.  Priority 2 means  sibling of current students at OVS.  Priority 3 means sibling of former student of OVS.  Both priority 2 and 3 new entrants will have places on the roll for 2021.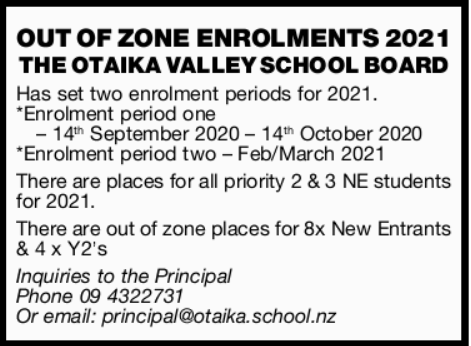 OTAIKA VALLEY SCHOOL CROSS COUNTRY
On Monday we really enjoyed a fantastic day with the students participating and competing in our school cross country.  This event was run under level 2 conditions, with a reasonably small crowd of parents/caregivers watching from their 'defined' area.  The weather mostly held off.  I personally wore my fishing oilskin rain coat, which was required for parts of the day.  When I took it off during the morning, it started raining, so I chose to wear it all day to keep the rain in check.
I must say there were some real battles on the finish line in a number of events.  We will remember a few standout performances, some starting falls, coming last and battling back to an epic finish to come second.  Someone pushed themselves so hard they were sick.  Others took it easy and were more interested in the journey.  All in all we were very proud of the children's wide range of performances and attitude to either participate or battle the pain of performance running.
Thank you to Abby our senior student course marshal co-ordinator and her team of helpers.  They made the day safe and enjoyable for all.
We had the BBQ running all day feeding the hordes.  The staff really enjoyed the day with the children.
Ag and Flower Day
We now have 15 lambs, 1 goat and 2 calves registered for the 2020 Ag and Flower Day, which is really exciting.  Lambs have been harder to get due to the winter draught and lack of feed around.  It is great to see students who choose to bring their animals to school, building a bond with their animals, and sharing the experience with classmates.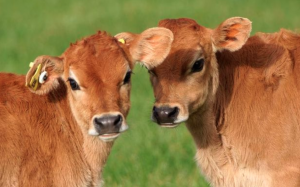 THANK YOU MISS KEOGH
On Friday Miss Anna Keogh will not be at school.  As a staff we told her not to come Friday.  Don't panic this is for a good reason.  As part of our work and commitment to staff well-being, during a very challenging year for all, it was decided to thank Anna with a day off.  During Level 3 when we had a bubble of students at school, Anna came into school to run a class as well as respond to her own class online.  It wasn't an easy time.  Anna volunteered to come into school, so that other staff could stay safe at home with their children or elderly parents and focus on the challenges of online home learning.
To the parents, if you see her around town exercising or at a cafe, she isn't bunking.  You don't need to let me know.
So enjoy your day off Anna.  You deserve it.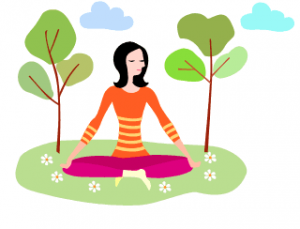 Print or Save this Post