9 August 2022
Kia ora koutou
Contents
Board of Trustee Election Results
School Staffing
North Fuels – rewards
Portland Cross Country – 19th August
Lucky Book orders
Board of Trustee Election Results
The Returning Officer advises the Otaika Valley School community that there were 4 nominations as parent representatives for the Otaika Valley Board of Trustees.  There will be no voting election in the circumstances.  Congratulations to the elected nominees for showing interest and commitment to contributing to the governance of the school.
The staff representative is Mrs Courtney de Boer.
The newly elected Board takes office from Wednesday 10th August.
The first Board Meeting to be held on the 14th September 2022.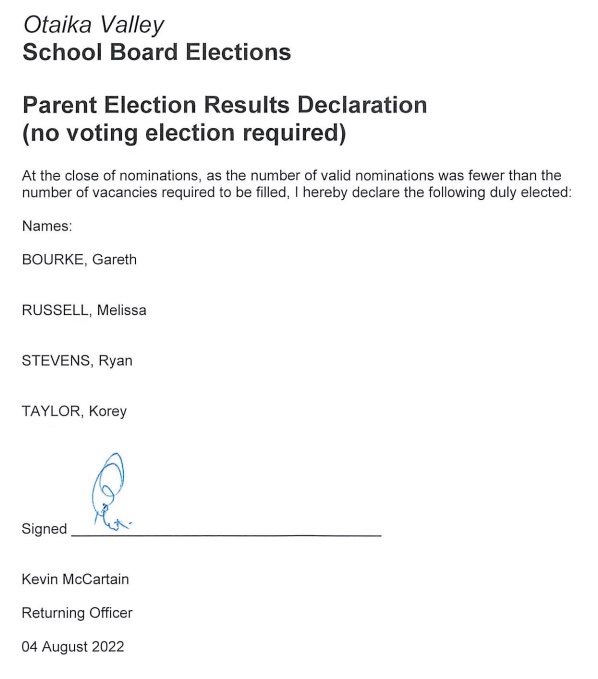 School Staffing
School staffing has been a challenge this year with the availability of teachers and relieving teachers.  A lot of thought goes on behind the scenes managing the needs of a school.  When communicating staffing changes I always think of the impact on children, as the highest priority.  I believe we need to take care when we let children know of a change with staffing as this can unsettle them, as relationships are very important for children.  Normally, I would not signal next year's organisation until well into Term 4, but due to a number of factors I will communicate this earlier.
Term 4 – Room 3 – Courtney de Boer – is on sabbatical.  Keona Campbell has been employed for Term 4 – a reliever is being approached to cover her 1 day per week Beginning Teacher release.  This release allows Keona to plan, assess and work with students to support learning, and often will result in 2 teachers in the room once per week.
We have advertised in the paper this week for the following positions…
Job 1. Teacher Aide – Librarian specific 14 hours per week
Job 2. (Potential) Teacher Aide – general part time
Job 3. After School Care – 12.5 hours per week Monday to Friday 3pm to 5:30pm.
(Job 2 & 3 positions could be combined – to be negotiated).
Job 4. Fixed Term New Entrant teacher term four (0.8 FTTE) – Advertised in the Ed Gazette.
Applications for Job 1 to 4 close 17th Aug 22 – 12pm.
Application packs available through the principal@otaika.school.nz
Ms Maggie McClune has been off on sick leave, as she had a hip operation during the holiday break and is due to return to work next week in Room 2.  Maggie intends to move to Australia to be closer to family later on this year.  To help support the school and allow flexibility if her house sells quickly, she has handed in her resignation effective on the last day of Term 3.  This allows us to advertise Job 4 earlier to attract interest in our New Entrant class.  If we are unable to employ someone for Term 4, Maggie will continue on as the Room 2 teacher (reliever) until then end of Term 4 (depending on her house sale).
2023 'draft' staffing plan – not normally shared this early
Miss Anna Keogh – new entrant teacher
Mrs Frances Cowan – Room 7 Y5/6 teacher – returning from maternity leave
A permanent teacher position advertised for 2023
North Fuels – rewards
Over the years we have received $ rewards to spend with the North Fuels.  We have received $1000 rewards come up once or twice per year.  The school has redeemed these on either technology or sporting packages, often an iPad or sports gear.  The last one Mrs Watene spent on books.  Recently we received $2,557.99 earnings and this time the communication showed who has contributed through North Fuels.
Grimmer Contracting – Asher's grandparents – are relatively new to our school and contributing.  We thank them for selecting our school.
Keith Cochrane a past grandparent of this school, and donator of our bike container, has the following companies.  I was unaware Keith was still contributing through North Fuels, so rang him to let him know.  Keith is well aware he is still contributing to Otaika Valley School, well after his grandchildren have moved on.  On behalf of the Otaika Valley Community, I would like to acknowledge the generous financial contribution that this has amounted to over a number of years.  The children of our school have been rewarded with extra sports gear and ICT equipment and recently books.
Cochrane & Son Logging Limited
Quality Log Haulage Limited
Quality Log Marketing and Management Ltd
To our community, if you know of anyone who requires the logging industry, you may be able to support the companies who have supported us.
The latest rewards and what we have ordered…
$2,557.99 North Fuels earnings
Spent on…
$1000 Apple iPad & Osmo Kit
$500 Digitech 15″ PA system
$500 Panasonic Headphone bundle x30
$500 Sports package 1x parachute, 10x hula hoops, 5x jumping sacks, 20x kiwi playtime pvc school balls, 25x bean bag squares, 12x blindfolds, 20x juggling scarves
Portland Cross Country – 19th August
Please put this date aside for our inter-school event with Portland (host school), Waiotira and Maungakaramea schools.
The following link has a permission form to sign and safety information for parking and spectating.
Please fill in the form, so that we can book buses.  We prefer children coming to school prior to the event for roll call and travelling as a school.  This allow teachers to know exactly who is under their supervision.
PERMISSION FORM:   https://bit.ly/3zG8qUa
Lucky Book orders
Issue # 5 for Lucky Book orders close on Monday 15th of August.

Print or Save this Post